But that's not all - we've put together a guide to all things data, packed with advice and tips to help you get the most from your data allowance.
Mobile Data: The Basics
Before we dive into the ins and outs of mobile data usage, let's go over the basics of data and how it's measured.
Mobile data allows your phone to access the internet when it's not connected to WiFi. It's measured in megabytes (MB) and gigabytes (GB).
Unless you're connected to WiFi, every time you use that internet you'll be using up a little bit of data. But the amount you use up will vary depending on the service you're using or task you're performing.
How many MB in 1GB?
You might think 1GB is 1000MB but it's not always that simple. Most networks - eg Three - define 1GB as 1024MB due to the use of binary multiples in data processing.
However, because it's become common to use "giga" to define a billion units, other providers use it to refer to 1000MB.
So check before you buy - you might be getting less data than you think!
Mobile plans vary significantly in the amount of data they offer. Some come with as little as 100MB per month, while others offer unlimited data.
As a rough guide, according to Expert Reviews, 1GB of data will allow you to:

Browse around 870 full-size web pages

Send over 400,000 messages on WhatsApp

Send approximately 10,000 emails

Watch just over an hour of video in medium quality on Netflix
Jump to data calculator

How much data does Spotify use?
Spotify is one of the world's most popular music streaming services, and if you're one of its 191 million monthly active users you may be wondering how much data the service uses.
Spotify data usage depends on the music quality you select, with the highest quality audio using up significantly more data than the lowest quality.
If you're a premium subscriber, you'll have the choice of four different audio quality levels: Low (24kbps), Normal (96kbps), High (160kbps) and Very High (320kbps).
According to Android Authority, the different quality levels will use approximately the following amounts of data:
Low
Per minute: 0.18MB
Per hour: 10.8MB
Length of time until you reach 1GB:
92.5 hours
Normal
Per minute: 0.72MB
Per hour: 43.2MB
Length of time until you reach 1GB:
23.1 hours
High
Per minute: 1.2MB
Per hour: 72MB
Length of time until you reach 1GB:
13.8 hours
Very High
Per minute: 2.4MB
Per hour: 144MB
Length of time until you reach 1GB:
6.9 hours
Spotify also has an Automatic audio quality setting, which automatically selects your streaming quality based on your network connection - so the better your connection, the better the quality.
If you usually listen at high quality the Automatic setting may help lower your Spotify data usage, as it will switch you to a lower quality level some of the time. There is also a Data Saver mode which will set your music quality to Low.
Spotify Premium also allows you to download songs to your phone. If you download them while you're connected to wifi, you can listen offline when you're out and about and leave your data allowance intact.
How much data to stream a movie?
Powerful smartphones with high-quality screens mean that watching movies and TV on the go is now standard practice.
But watching video online is also one of the quickest ways to consume your data. So how much data does streaming a movie use?
This depends on a number of factors:
Video Content - It'll take less data for a video player to show a video that has, for example, a single colour and few moving images than a more colourful, 'exciting' video. The reason is simple - showing more complicated video requires more data. This concept also applies to newer video formats like 3D and 360 degree video; they'll use even more data, so keep your usage in mind if you're about to watch one of these videos.
Codec - In order to encode and play back multimedia content like movies you need to use a codec. Newer codecs will use less data, at a cost of lower adoption and more processing power.
According to Netflix, the different quality settings use the following amounts of data on average:
Low quality
Per minute: 5MB
Per hour: 300MB
Length of time until you reach 1GB:
3.3 hours
Medium quality
Per minute: 11.7MB
Per hour: 700MB
Length of time until you reach 1GB:
1.4 hours
High quality
(HD)
Per minute: 50MB
Per hour: 3GB
Length of time until you reach 1GB:
20 minutes
High quality
(Ultra HD)
Per minute: 117.7MB
Per hour: 7GB
Length of time until you reach 1GB:
8.5 minutes
As you can see, the highest quality video uses up a lot of data, so - unless you're on a plan with unlimited data - watching high-quality movies online will fast use up your allowance.
Jump to data calculator

How much data do I need?
Our data calculator is the best way to work out how much data you need, but the data usage profiles below will give you a rough idea of what sort of data allowance you might need.
Light usage

You use your mobile data to:
Browse the web for up to an hour a day
Check your email
Chat on WhatsApp
Check social media for an hour or two total every day
Watch the occasional video


If this sounds like you, you're a light data user. An allowance of 2GB per month will probably be enough for you - what an Ofcom survey considers average mobile data usage (though bear in mind this data is from two years ago so bear in mind overall average data consumption may have risen since then).
Medium usage

You use your mobile data to:
Browse the internet over an hour a day
Check emails daily via a downloadable email client like Gmail
Stream music in normal to high quality every day
Watch a video or two in standard quality every day
Download a few apps or games each month


If you match this profile, you're a medium data user. You're likely to need an allowance of at least 10GB per month.
Heavy usage

You use your mobile data to:
Send and receive multiple emails every day, often with attachments
Browse the internet for several hours a day
Watch several high-quality videos or movies online
Frequently stream music in very high quality
Download lots of apps, games or music
Act as a mobile hotspot for your other devices


If this sounds familiar you're a heavy data user, we recommend at least 30GB of data per month.
How can I get an accurate idea of my mobile data usage?
Our data calculator is a great way to estimate how much data you might use, particularly if you think you need a plan with more data. However, if you want to get an accurate account of how much data you're using right now, you have several options:
Go and monitor your own usage by checking your phone's settings. Most modern phone operating systems should have an option in "settings" (or something similar) that tells you your data usage - Android phones, for example, have an option saying 'Mobile Data'.
Your data usage can then be displayed over that week or even that month. By checking this you should be able to get an idea of how much data you're using on a monthly basis.
Your phone bill will give you a breakdown of how you've used your allowance, telling you exactly how much data you've used each month.
Bear in mind, using your average isn't a fail-safe method - your usage might vary over time and exceptional months might well push you over your data limit.However if you have no idea where to start with your data, your bills and doing a rough analysis of previous months' usage could be a useful jumping-off point.
The most thorough solution, however, is to analyse your actual, historical usage over a reasonable period of time. Have you had to pay for a mobile data add-on more than once in the last few months? Does your job require you to send a lot of emails? Or have you noticed you've been eating up a lot of data by watching Youtube clips while commuting?
Then a bigger data plan isn't just obvious - it's essential.
The above might give you a clue about your data plan but it's not a smoking gun. Usage will vary depending on the day, week or month - so treat with care! This is where a data calculator comes in handy. Having a firm grip on your usage will allow you to estimate how much you will use.
Jump to data calculator

What happens if I use up my data allowance?
If you get to the end of your data allowance before the end of the month, you'll either be charged for the amount of extra data you use, or won't be able to use mobile data until you buy an add-on.
Any data you use outside your plan will generally work out more expensive than the data included in your contract - that's why it's important to find a plan that comes with the right amount of data for you.
The amount it will cost you to go over your data allowance will vary between networks and tariffs, and in some cases it can get very expensive. However, some networks set a spending cap for your usage to limit how much you can spend on data outside of your bundle.
If you're regularly exceeding your data limit, it's a good idea to find a new plan with a larger data allowance - find the right data package for you with our SIM Only comparison tool.
Our comparison also takes into account out-of-bundle charges - check the 'More Info' tab on the relevant deal to see what kind of add-ons they're offered.
Jump to data calculator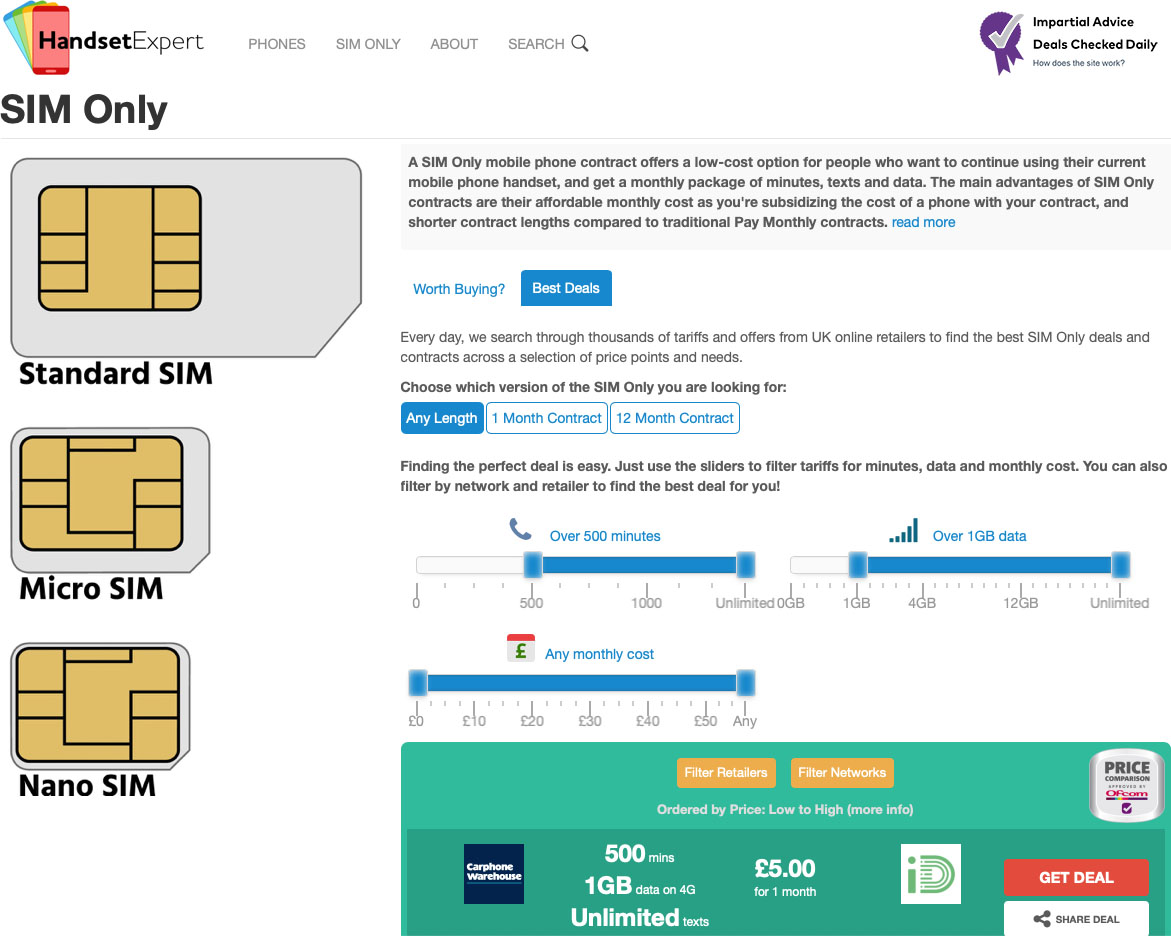 How can I save data?
If you don't want to upgrade to a plan with a larger allowance (which may be more expensive), there are steps you can take to cut your data usage.
Here are our tips for reducing your mobile data usage and getting the most from your allowance:
Use WiFi whenever possible
Whenever you have access to a WiFi connection, use it! Chances are you'll have WiFi at home and work, and many public places - cafes, pubs, shopping centres and even trains - have free WiFi available to use. Connecting whenever you can could save you precious megabytes.
Adjust your settings
If your smartphone and apps still have their default settings, they may be sneakily eating up your data in the background. Luckily, it's very simple to change that.
The exact process will vary between different phones, but start by switching off automatic updates and background app refresh to prevent apps from munching your data when you're not even using them.
For a more detailed explanation of how to do this, check out these guides for Android and iPhone.
Download music and movies for offline use
As we saw previously, streaming music and video can seriously eat into your data allowance. You can get around this problem by downloading your playlists and movies over a WiFi connection so you've got them ready to go when you're out and about.
Spotify Premium, BBC iPlayer, Netflix and Amazon Prime all allow you to download content, giving you the option to enjoy them offline without using any data.
Most popular mapping apps, such as Google and Apple Maps, allow you to download maps and directions to use offline.
What about using data abroad?
You've probably heard stories of people accidentally spending a small fortune by using data abroad (or experienced it yourself) - so it's understandable that you might be a little cautious about switching on data when you're overseas.
However, it's perfectly possible to get online when you're abroad without running up an enormous phone bill.
You can use your data allowance anywhere in the EU at no extra cost, thanks to legislation that came into force in June 2016 (although with Brexit on the horizon this could be set to change).
Some networks allow you to use your monthly allowance at no extra cost in other locations, or buy data add-ons to limit the extra cost.
Find out more about global roaming charges with our interactive map.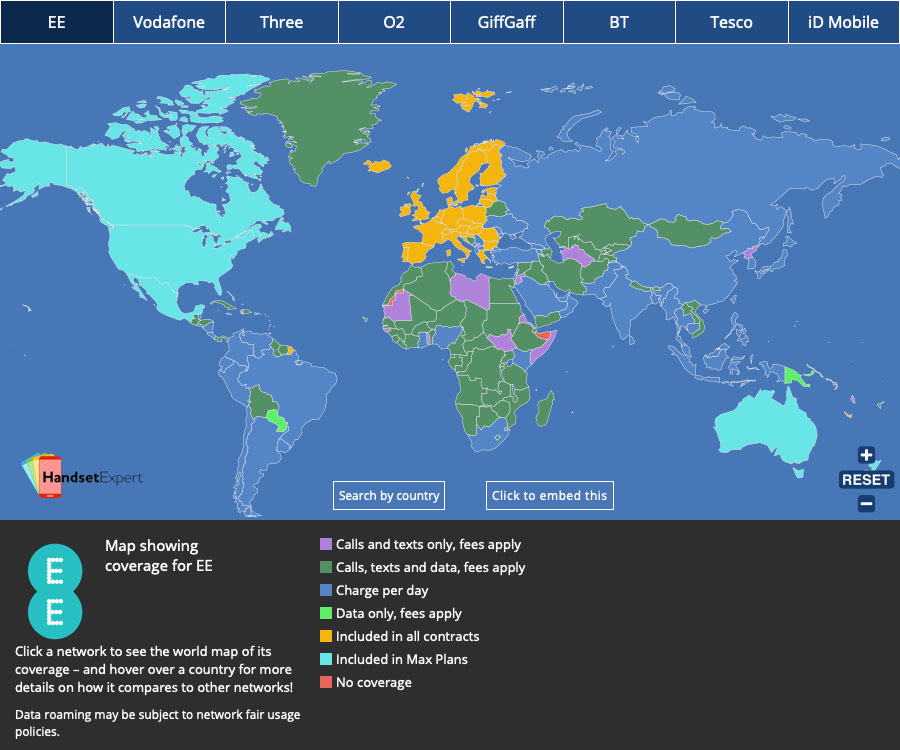 Give our data calculator a try
Hopefully our guide has given you a clearer picture of how mobile data usage works. If you think your usage and your data allowance may not match up, give our data calculator a whirl to help you find the perfect plan.