If you've been using our price comparison tools, you might have noticed that many of the cheapest deals available offer something called 'Cashback by Redemption'. If you've never encountered this term before, you probably want to if Cashback by Redemption is any good, how it works, and what conditions are attached.
To explain the concept better, it's helpful to have an example, so let's look at this SIM Only deal offered by Fonehouse. The deal, for 8GB data and unlimited minutes and texts on a 12 month contract, comes with £72 Cashback by Redemption. This means that after you take cashback into account, the average monthly cost over the length of the contract is a mere £2 per month, or a total of £24 over the entire 12-month contract. As you can see, this is exceptionally good value for money.

The way Cashback by Redemption deals work is that you pay the 'full' monthly cost each month (so in the case of this SIM Only deal, £8/month). At set periods in the contract, you complete a claims form and receive cashback. You might receive the cashback can be in the form of cheques, or in the form of money sent directly to your bank account. Over the course of the contract, you will receive £72 cashback. This brings down the cost of the deal from a total of £96 over 12 months to £24.
Specifically for this deal, when you click through to purchase, Fonehouse says: "This cashback is paid by Fonehouse and is easily claimable by instalments in month 3, 5, 7, 9 and 12. Full details on how to claim will be sent with your order".
The precise terms and conditions for making claims will vary between deals and retailers. There is normally a set window in which you can redeem each cashback instalment - so for example you'd have to send the claims form for month 3 within a month or you lose out on that cashback instalment.
For this reason, Cashback by Redemption deals aren't for everyone, as it can be easy to forget to fill in the claims form within the set timeframe and miss out on some of the cashback (I've been guilty of this myself in the past).
If that's the case, then you might prefer to pick a deal with Automatic Cashback, or no cashback at all. You can hide Cashback by Redemption deals from our price comparison by going to the top of the comparison table, click/tap 'More' and untick Cashback by Redemption.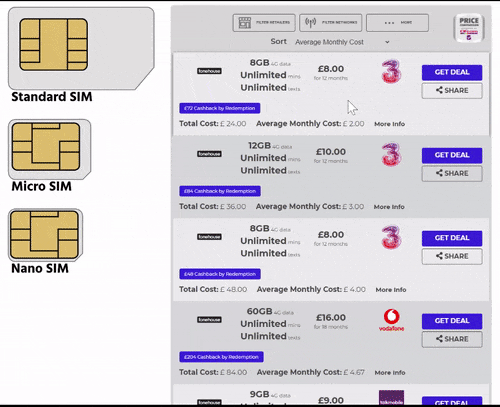 You should also make sure you make a note of when your contract ends and prepare to switch to a new deal as soon as your contract is up.
However, if you don't mind the extra legwork and put reminders in your calendar to fill in the claims forms at the right time, Cashback by Redemption deals can represent great value.