The Galaxy S7 edge has recently launched in the UK, and it's already proven to be very popular with both reviewers and customers. Our dedicated Galaxy S7 edge portal is updated every day and covers the best deals over a variety of tariff types, but in this post we've analysed and highlighted the best deals in a little more detail.
We're going to assume that you're looking for a deal that has a good balance between what you pay upfront and what you pay every month; so we're only looking at deals where you will pay a maximum of £150 for the phone at the beginning of the contract. Technically, you may be able to get a cheaper deal if you spend more than that at the beginning of your contract, but at that point you may as well buy the phone separately and get a SIM only contract with it.
We've analysed all the deals and offers we could find, and have split the best offers into different categories. Normally, we'd start with the best deals for light use and work our way through the deals to ones with greater allowances, but first we want to highlight an interesting finding. The chart below shows the lowest average monthly cost for contracts with data: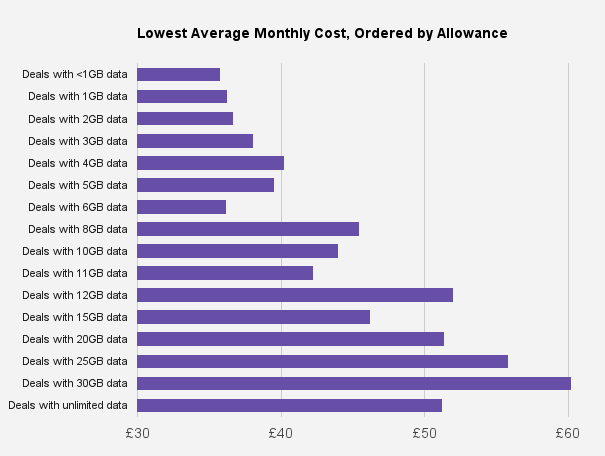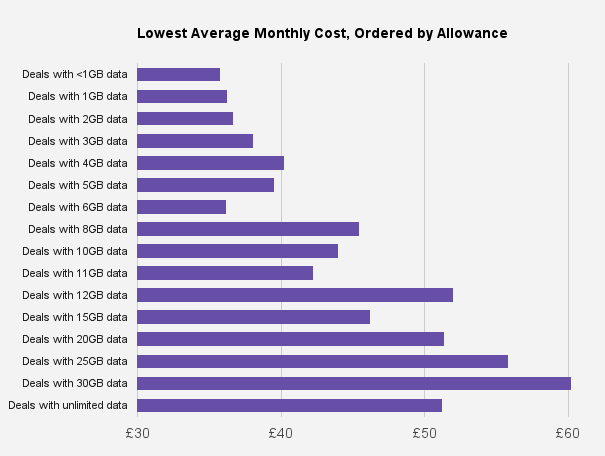 You can see from the graph that it's actually cheaper to go for the best deal with 6GB data than it is for anything with 1-5GB data! The deal, available from Mobiles.co.uk or e2save on Vodafone, costs £31/month and £125 upfront, and comes with unlimited minutes and texts in addition to the 6GB data.
24 Month Contracts
Light Use
If all you want is a tariff for occasional web browsing and downloading, and want a respectable voice allowance to go with it, these are your best options:
Medium Use
If you're the kind of person who will use data to a resonable degree but isn't constantly streaming content, then you probably want a data allowance in the the 2-5GB range.
Heavy Use
12 Month Contracts
There are very few options for those that want a shorter contract with their phone:
SIM Free Prices
If you don't want to get the S7 edge as part of a contract, you'll want to buy the phone SIM Free. Prices are pretty similar across the board (the RRP is £639), but there are a few places that sell it for less:
For the latest prices, our price comparison engine checks prices every day across over 40 retailers in the UK.
Follow us on Facebook or Twitter for the latest deals and information.