There's nothing quite like the frustration of having a bad mobile phone signal in a time of need.
Whether it's for making calls, chatting to friends, listening to music or surfing the web, most of us depend on our phones to some extent. So having our trusty devices rendered useless by poor signal is at best irritating, and at worst disastrous.
Mobile phone coverage across the UK is improving. At the end of 2017, 90% of indoor premises had telephone call coverage from all networks, while 85% had mobile data coverage. These figures were up from 85% and 80% respectively the previous year. Also, the four UK mobile network operators (EE, O2, Vodafone and Three) were required, under the terms of a 2014 agreement with the government, to increase their voice coverage to 90% of UK landmass by December 2017. All four networks achieved this, and communications regulator Ofcom is working with them and the government to continue the upward trajectory.
However, not all networks are made equal, and coverage varies from area to area. If you're thinking about changing networks, picking one with a good signal in the places you live, work, and commute should be a top consideration. To make things easier we've collected all the essential facts and figures into this handy guide, so you can see which networks have the best mobile phone coverage and make an informed choice.
What are MNOs and MVNOs?
There are actually only four mobile networks that own and operate mobile infrastructure in the UK: EE, O2, Vodafone and Three. These are known as mobile network operators, or MNOs.
But as you're probably aware, there are lots of other providers out there. These companies, known as mobile virtual network operators (MVNOs), all lease mobile infrastructure from one of the MNOs. For example, Virgin Mobile uses EE's infrastructure, and GiffGaff uses O's. This means that, in terms of mobile network coverage, each MVNO is the same as the MNO it 'piggybacks' on.
Which operators do the MVNOs use?
The chart below shows some of the major MVNOs, and the MNOs they lease infrastructure from. If you're thinking about choosing one of the MVNOs, check out the stats for the corresponding MNO to see what coverage is like.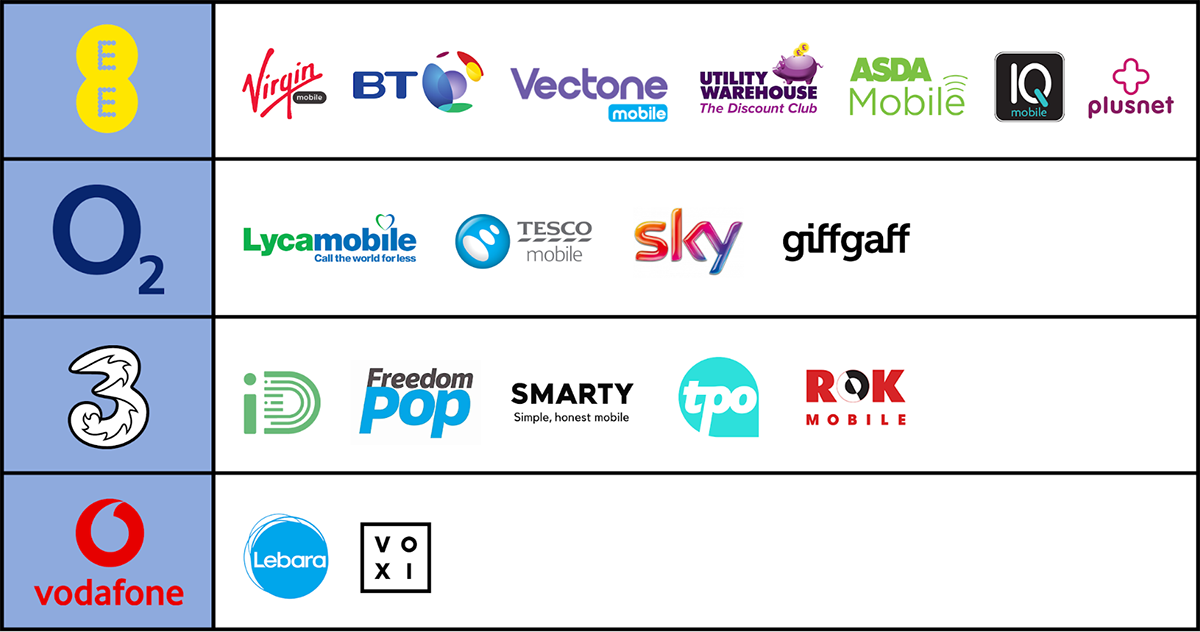 How do the networks compare across the UK?
The tables below show a variety of different statistics for each of the four MNOs, to give you a picture of the extent, reliability and speed of their mobile phone coverage.
How can I check mobile phone coverage in my area?
The stats above should give you an idea of how good each network's coverage is overall, but as most of us spend a fair amount of our time at home, it's always a good idea to check coverage in your specific area as well.
Operator coverage maps
Each of the four MNOs provides a coverage checking tool which lets you put in your postcode and find out how strong their signal is in the surrounding area. If you want to check the signal for any of the MVNOs, use the coverage checker for the corresponding MNO.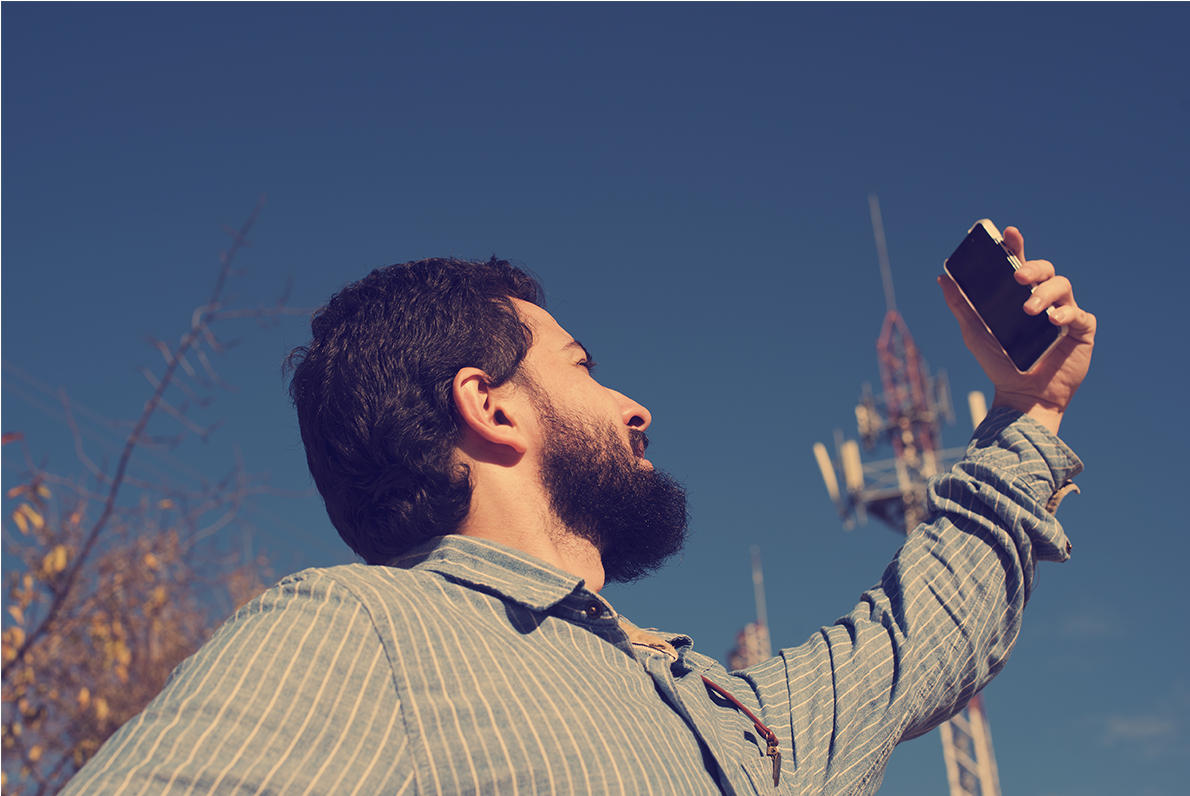 Independent coverage maps
Each MNO's coverage map is different, and although they're mostly accurate, they do have their limitations. The coverage they indicate for your area may not be exactly what you'll receive, especially if you live in an area that's on the edge of good and bad mobile phone coverage.
If you're after a less biased approach, check out one of these independent coverage maps:
Ask friends and family
It may sound primitive, but one of the best ways of assessing mobile phone coverage and signal quality in your area is by getting real-world feedback. Ask your friends, family or neighbours which network they're on and how good their mobile phone coverage is.
Of course, this method won't be completely unbiased. Some of the people you ask may have had a bad experience with a certain network, meaning they'll advise you to avoid them regardless of signal quality. But if you can get them past these experiences - or recruit people who are happy with their network - consider inviting them over to your house and testing out their phone signal and mobile internet connection. Make sure you test the coverage in the rooms where you spend most of your time.
Get a test SIM card
If you can't find any friends or neighbours willing to be your mobile phone coverage guinea pigs, you could get a test Pay As You Go (PAYG) SIM card on your network of choice. Put it in your phone and use it as you would usually for a few days to get an idea of that network's performance.
It's easy to get hold of a PAYG SIM card - most networks will give you one for free if you buy £10 credit. This is a small price to pay if it means you don't end up shelling out for a long, expensive phone contract with a network that doesn't have good mobile coverage in your area. You can get hold of free PAYG SIMs by ordering them online at the following links:
What can I do to improve my signal?
Use wifi for calling and texting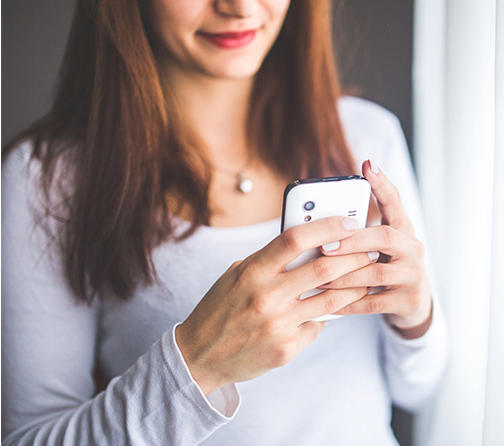 Lots of apps allow you to make calls over wifi, including Skype, WhatsApp and Facebook Messenger. However, these usually depend on the person you're calling having the app or being online at the time.
Luckily, all four MNOs offer wifi calling and texting. This means you're able to make calls and send texts as normal, but your phone does it via a wifi connection rather than a mobile signal. So even if you're somewhere with no mobile signal, you'll be able to make calls and receive texts as long as you have wifi.
Some MVNOs also offer wifi calling, so check their individual websites to find out.
Use a mobile signal booster
If you can't get a good signal at home on any of the networks, consider using a mobile signal booster. It's best to go for the device offered by your network rather than buying one from a third party. The devices offered by networks are called femtocells, and each of the MNOs offers its own solution:
EE's Signal Box plugs into your broadband router and creates indoor coverage within a range of around 15m.
Vodafone's Sure Signal V3 fits straight into a standard plug socket and works through your broadband connection, creating an indoor signal.
O2's Boostbox is available for business customers and uses an office or home office broadband connection to create a hotspot.
Three's Home Signal connects to your broadband router and sends out a signal within a range of around 15m.
Some third parties sell a different sort of device, known as a signal repeater, which amplifies the mobile signal between the network and the phone. Previously it was illegal for consumers to use these devices, although the law has recently changed to allow their use if certain technical requirements are met. However, many signal repeaters are unlikely to meet these requirements, so be careful!
Resources
The information on voice and data coverage was taken from Ofcom's Connected Nations Report 2017, which was published in December 2017. These metrics show the percentage of the UK, both indoors and outdoors, where it's possible to get a complete, uninterrupted signal for both voice calls and data services.
The information on network availability and speed was taken from analysis conducted between June-August 2017 by OpenSignal and Which?. The 4G availability metric shows the percentage of the time it's possible to get a 4G signal, whilst the speed metrics show the average performance of each network's 3G and 4G signals.

Maximising your mobile phone coverage
We hope our guide helps you decide which mobile network to choose.
Although checking your coverage using the methods above will take a bit of back-and-forth, it'll be worth it if it stops you from signing up to a network you can't get signal on.
Chosen a network? Now check out our mobile phone deals to find the best combo for you, or if you're happy with your phone, have a look at our SIM-only deals.